One Big Question
Greg Fenves (President of Emory University) grabs a mic and some audio gear, and gathers a bunch of amazing guests to tackle the biggest questions facing our world today. Authors, researchers, influencers, and more—from across the Emory orbit—sit down for energetic and thought provoking conversations.
Episodes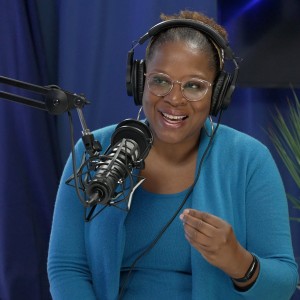 Wednesday Sep 14, 2022
Wednesday Sep 14, 2022
Tayari Jones is a best-selling author, whose acclaimed novels explore the human condition with depth and compassion. Her works ask fundamental questions about identity, family, and America, and they have riveted readers around the world. Tayari is the Charles Howard Candler Professor of Creative Writing at Emory University, where since 2018, she has taught and mentored undergraduate students of all skill levels. In this episode, Emory University President Greg Fenves talks with Tayari about teaching, and why, of the many options available to her, she finds that working with undergraduate students and unlocking their creativity allows her to have the greatest impact as a professor.  Related Articles "Atlanta native, author Tayari Jones joins faculty of Emory University" (Atlanta Journal-Constitution, 4/15/2018) 'SisterWriters' Tayari Jones, Pearl Cleage share their literary friendship in Emory talk (Emory News, 10/2/2018) "Emory professor, novelist Tayari Jones wins NAACP Image Award" (Emory News, 4/1/2019) "Tayari Jones' 'Exquisitely Intimate' Novel Wins Women's Prize For Fiction" (NPR, 6/5/2019) Related Resources Creative Writing Program at Emory University Georgia Writers Hall of Fame: Tayari Jones Tayari Jones Official Web Site TIME: Article by Tayari Jones Women's Prize for Fiction 2019: An American Marriage (Tayari Jones)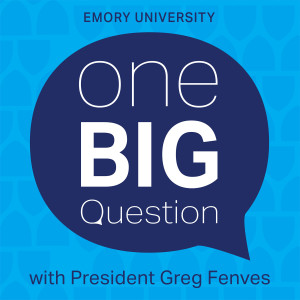 Monday Sep 12, 2022
Monday Sep 12, 2022
On the next episode of One Big Question (Wed., Sept. 14), university President Greg Fenves sits down with Tayari Jones, Professor of Creative Writing at Emory College, about teaching, and why she finds that working with undergraduate students allows her to have the greatest impact as a professor.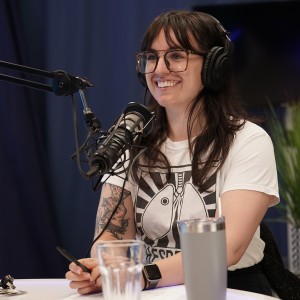 Tuesday Aug 23, 2022
Tuesday Aug 23, 2022
Laurel Bristow is an infectious disease researcher at Emory University, and since the pandemic started, she's become a social media phenomenon. She's been posting videos on Instagram and answering questions about COVID-19 and the connections she's built with her audience are truly one of a kind. At last check, she's amassed close to 450,000 followers. In recent years we've unfortunately seen how social media can be used to spread conspiracy theories, misinformation, and disinformation. But what about the truth? In this episode, Emory University President Gregory L. Fenves talks with Laurel about how social media, with all of its eccentricities, can also be a powerful medium for truth telling and myth-busting. Related Articles "An Atlanta Researcher Looks For a COVID-19 Treatment" (MTV Impact, 6/27/20) "Instagram's Favorite Infectious Disease Researcher on Our Nightmare Year" (VICE, 12/23/20) "Teaching People How to Spot Bad Science Is a Public Health Tool" (Mother Jones, 7/20/20) "This Infectious Disease Specialist Is Answering Your COVID-19 Questions On Instagram" (Science Friday, 3/19/21) Related Resources Hope Clinic of Emory Vaccine Center: Lauren Bristow Lauren Bristow on Instagram Lauren Bristow on Twitter
About This Podcast
One Big Question is produced by the Division of Marketing and Communications, Emory University.
Greg Fenves
Gregory L. Fenves was named Emory's president in 2020. He has led the university through the challenges of a global pandemic by setting priorities and establishing policies to unite the community, bolster public health and advance learning, teaching, research, and creative expression—all while charting a course for Emory's future. He has also focused on diversity, equity, and inclusion, launching a series of university initiatives aimed at strengthening Emory's commitment to social justice.